VALLORBE 4.5MM 11/64" ROUND CHAINSAW FILES 12 PACK FOR OREGON TYP90 OR 325 CHAIN 613548131220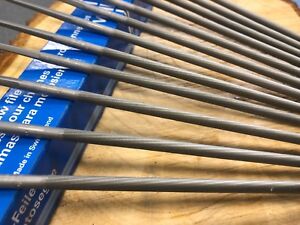 ---
12 PACK / ONE DOZEN SWISS MADE VALLORBE ROUND FILES, 4.5MM 11/64"
PART NUMBER: LC10003-03-45
CHAINSAW ROUND FILE FOR .325 SAW CHAIN I.E STIHL 26RS ,26RM ,OREGON 95 ,20 ,21 ,22 ,HUSQVARNA H22 ,H25 ,H30 ETC AT END OF LIFE WHEN TOOTH WORN DOWN.
ALSO FOR OREGON TYP 90 3/8 1.1 LOW PRO CHAIN
THESE ARE TOP QUALITY SWISS MANUFACTURED FILES.
WE HAVE SOLD THESE TO LOCAL TREE SURGEONS AND HAVE HAD POSITIVE FEED BACK ON THESE AND REPEAT PURCHASES FOR THESE SUPERIOR FILES.
IF YOU ANY QUESTIONS ABOUT THIS ITEM PLEASE USE MESSAGING
PLEASE SEE OUR SHOP.  THANK YOU